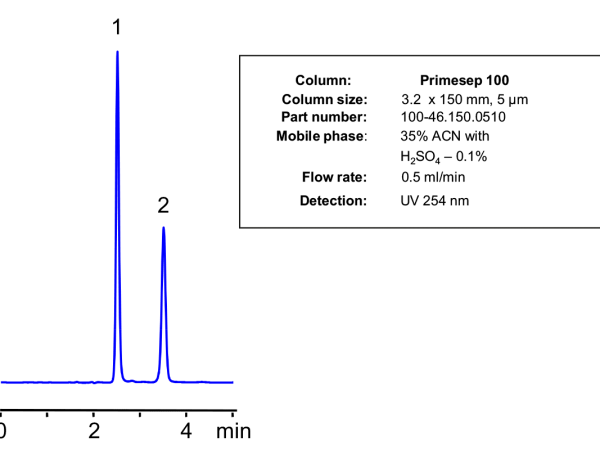 Compounds of significantly different polarity are easy to resolve on reverse phase HPLC columns. In this situation, a gradient elution is usually required to obtain a reasonable retention time for all compounds. However the gradient is not always desirable especially for high throughput mode of operation.
• Extra work would be required to prepare two different solvents for the mobile phase.
• Run time is long.
• Additional time is required for column equilibration prior to each injection.
A mixture of acyclovir and hydrocortisone is a such example. Often they are both constituted in topical creams used to treat cold sores/fever blisters. Acyclovir is a polar molecule (logP = – 1.2) while hydrocortisone (logP = ~1.7) is a hydrophobic compound. Their separation on a reverse phase 150 mm, 5ìm column would take 10+ minutes. The same separation, but much faster, can be obtained on a Mixed-Mode (Primesep 100) column with simple isocratic mode of elution. For LC-MS compatible conditions the sulfuric acid can be substituted by TFA or ammonium formate.
Column Name : Primesep 100 Columns
Compound Name : Hydrocortisone, Acyclovir
We focus on supporting laboratory workflows & optimizing lab-wide operations